CaseMe iPhone 8 Plus Zipper Wallet Detachable 2 in 1 Folio Case combines exceptional utility with a professional aesthetic to create a case that's perfect for everyday use. Complete with detachable back cover, as well as a zip pouch. Specially Designed Wallet Case For iPhone 8 Plus.
Luxurious Retro Flannelette Leather
This case an attractive durable leather wallet case provides your phone a full body protection, so storing your phone doesn't mean compromising on your device's unique aesthetic.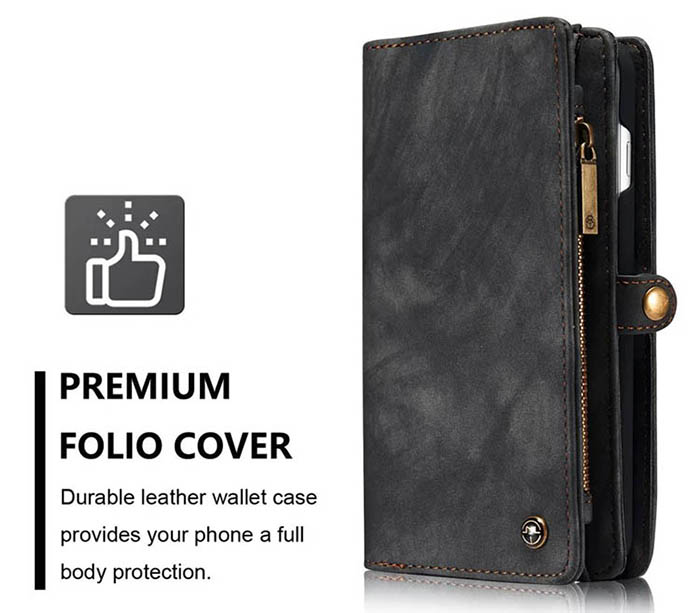 CaseMe provides astonishing utility with a sleek, professional aesthetic
If you've ever wanted your phone case to carry everything you could possibly need while out and about, then this luxury leather-style offering is for you. Incredible 11 Card Slots + 3 Cash slots, as well as a zip pouch for storing items earphone, tickets and coins, the back cover case is rounded off by a sturdy detachable PC and TPU frame. Held to the case by a magnet, this shell is just as stylish and durable as the wallet portion of the case but can be stored in a pocket, making this an ultra-portable option in addition to the excellent functionality already on offer.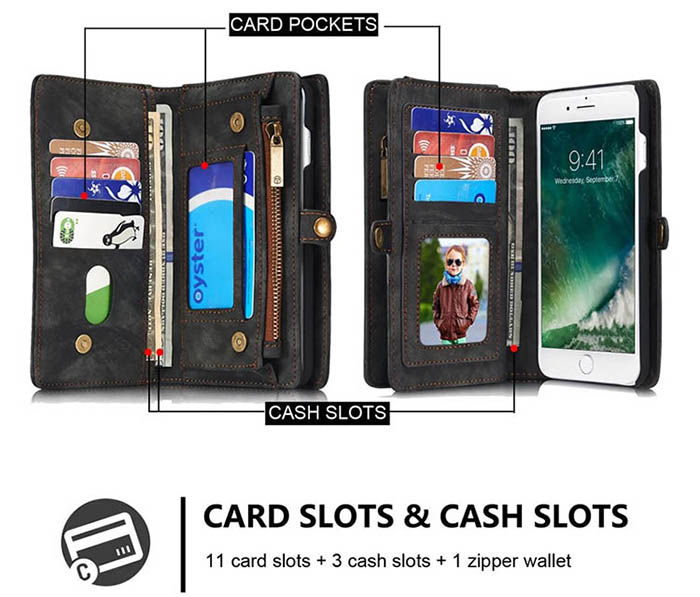 Detachable Back cover case
The most ingenious feature of this case is that you can detach the inner shell case and use a case in its own right. Simply pull the shell out of the wallet and off you go. When you want to place it back in, the magnetic system will hold it in place perfectly. Few cases have this level of functionality. You don't need always need the extra carrying potential of the wallet case while you'll always need protection. and this is another layer of protection for your precious iPhone 8 Plus.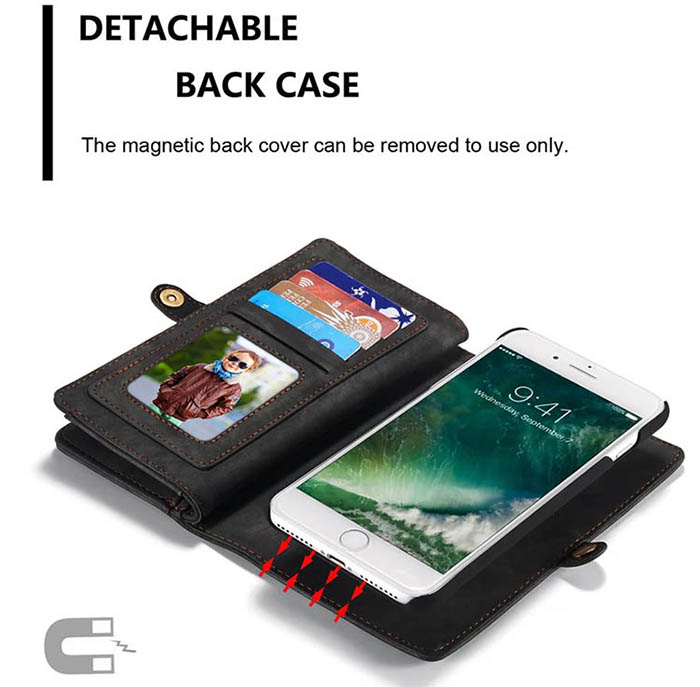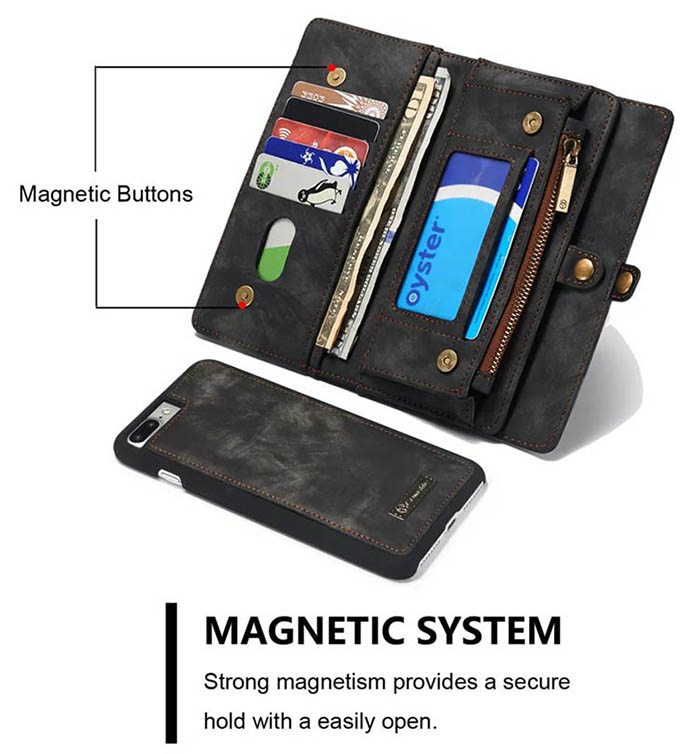 Interior credit card slots
With interior credit card slots, the 2-in-1 magnetic wallet case is perfect for storing anything from your train tickets and licenses to receipts and of course debit or credit cards. The case also includes an ID pocket for displaying important identification methods like driving licenses.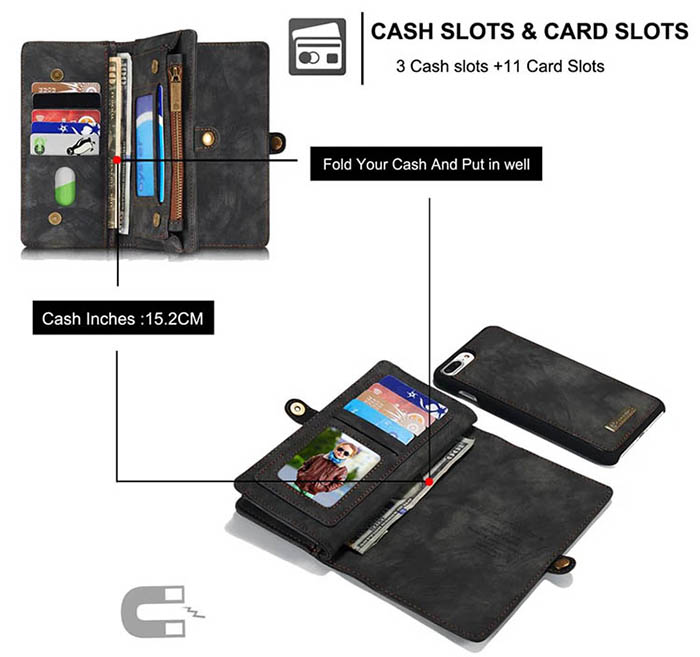 Zip pouch pocket to store coins or other small items
This case is truly the ideal choice for those wishing to travel light. Included alongside the card slots is a zip pouch, ideal for storing small objects such as coins, earphone and other essential items. Augment your everyday life with this ultra-useful case.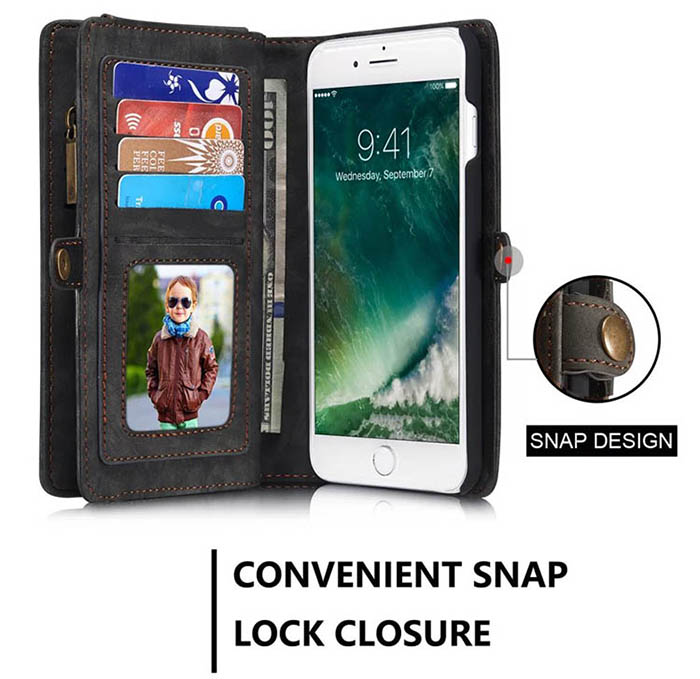 Specifically designed for the iPhone 8 Plus
This case is made specifically for use with the iPhone 8 Plus, so it offers a perfect fit and (while in the detachable shell case) does not impede the use of any of the functions, such as the power and volume buttons, headphone and charging ports and rear camera, flash and fingerprint sensor.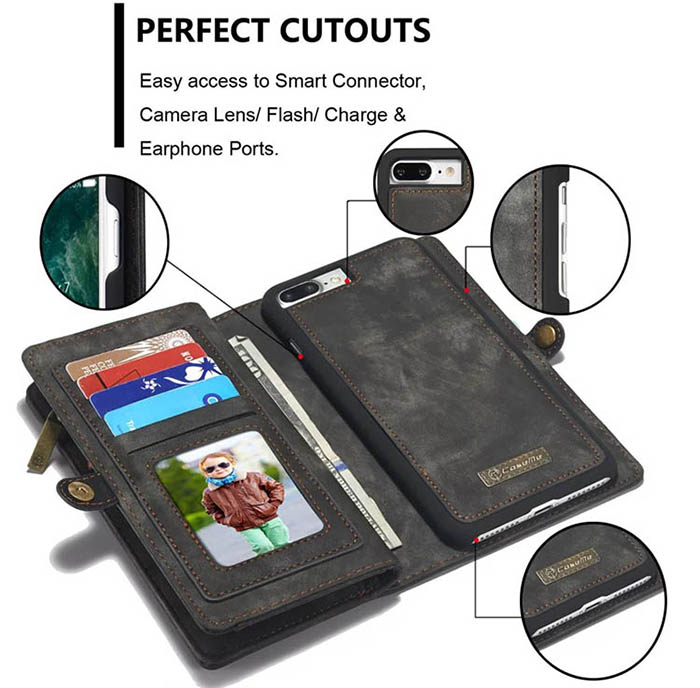 CaseMe iPhone 8 Plus Zipper Wallet Detachable 2 in 1 Folio Case Black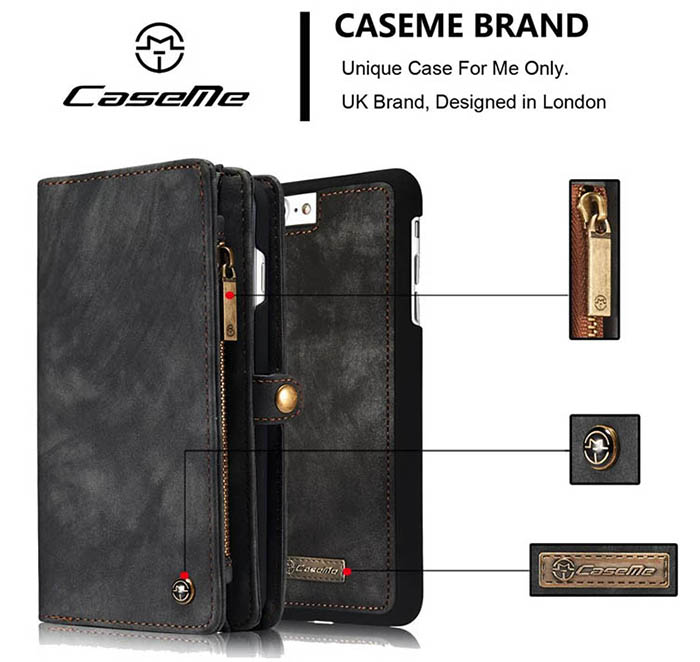 CaseMe iPhone 8 Plus Zipper Wallet Detachable 2 in 1 Folio Case 4 available Colors: Black, Brown, Red, Green.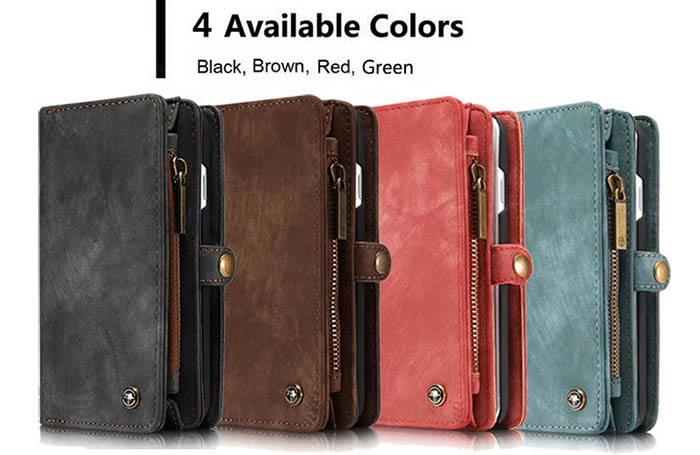 Wallet, Meet Your Favorite Leather iPhone 8 Plus Case.
"The ability to be heard, and to be heard for what you mean to say, is invaluable." -PQ
We have heard you. The CaseMe iPhone 8 Plus Case is the embodiment of all that you asked for in a leather iPhone 8 Plus wallet and book case. It is constructed from a single piece of rich, supple flannelette leather that we obtained from the best China steer hides, edged with an intricate flannelette leather that would make even an pefect cut-outs, and pulled together with highest grade. oozes classiness, a fitting finishing touch for an iPhone 8 Plus case that will see you through many adventures.
CaseMe iPhone 8 Plus Zipper Wallet Detachable 2 in 1 Folio Case. With 10 Card Slots + 3 Cash slots, there is room for all your essentials. We have improved the capacity without losing the lay-flat look, so you can fit more. All ports are easily accessible and the iPhone 8 Plus rear camera is completely useable in-case, while also being gently protected.
All of this beauty can be found in our may color combinations for the CaseMe iPhone 8 Plus Zipper Wallet Detachable 2 in 1 Folio Case. Whatever color combo strikes you, know that it comes from only the best portion of the leather.
CaseMe in hand, watch as your own individual story imprints itself onto the leather, developing a rich and unique that grows more glorious with each passing day.