CaseMe Samsung Galaxy Note 8 Zipper Wallet Detachable Flip Case keeps your Samsung Galaxy Note 8 secure and enclosed. It features an executive premium quality hard wearing retro flannelette leather material. This material is perfect for commuting, travel or really any occasion and looks and feels great.
With the perfect blend of elegance, functionality and protection, this luxurious Samsung Galaxy Note 8 Wallet Detachable Flip Case from CaseMe in Black, Red, Brown is the ideal companion for your Samsung Galaxy Note 8. Featuring 14 card slots and a zipper compartment you can carry more, easily.
CaseMe Samsung Galaxy Note 8 Zipper Wallet Detachable Flip Case Specifications:
Case Typle: Wallet Leather Case For Samsung Galaxy Note 8
Model: CaseMe-SGNote8-007
Material: Retro Flannelette leather, PC + TPU, Metal
Color: Black, Brown, Red
Feature: Wallet, stand function, Credit Card holder, photos Album
Function: Dust proof, shock proof, scratch proof
Net weight: 0.180kg
Size: 100% perfect suitable for Samsung Galaxy Note 8
Luxurious leather-style build
This case boasts an attractive faux leather fascia, so storing your phone doesn't mean compromising on your device's unique aesthetic. No need to compromise on form or function, as this case offers everything in a single package.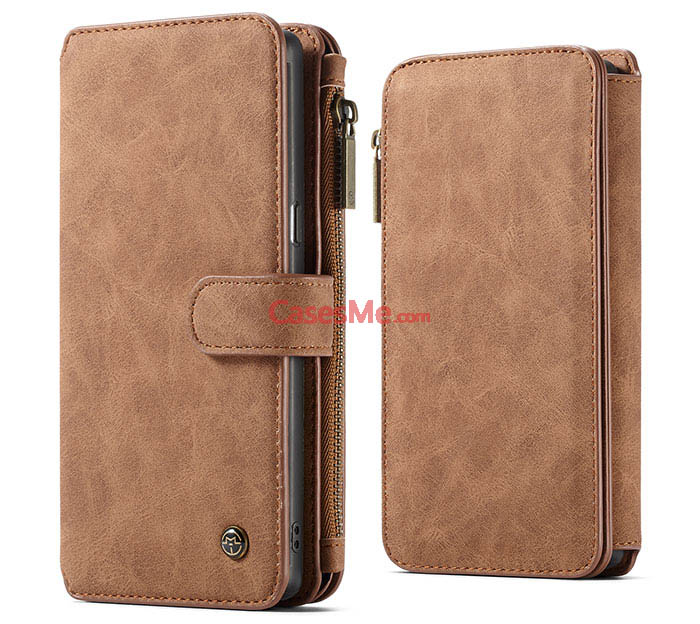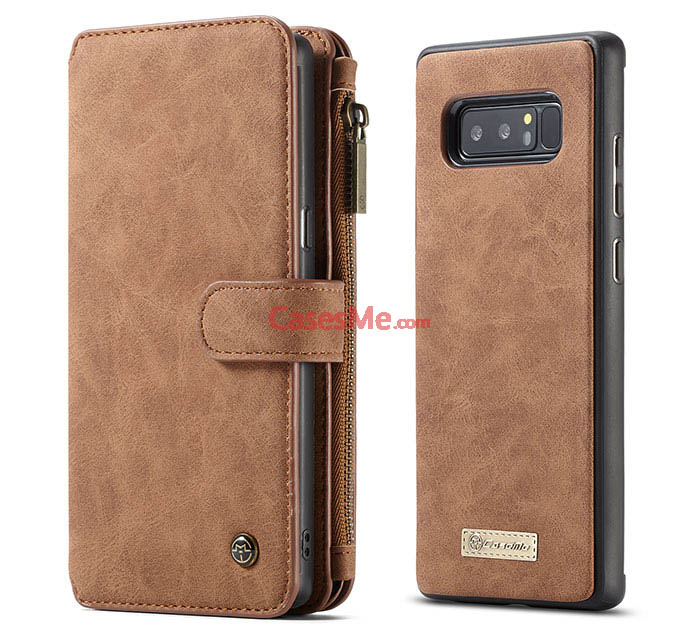 2 in 1 case provides astonishing utility with a sleek, professional aesthetic
If you've ever wanted your phone case to carry everything you could possibly need while out and about, then this luxury leather-style offering is for you. Sporting an incredible 14 card pockets, as well as a zip pouch for storing smaller items such as bus tickets and coins, the packed feature list of this case is rounded off by a sturdy detachable polycarbonate frame. Held to the case by a magnet, this shell is just as stylish and durable as the wallet portion of the case but can be stored in a pocket, making this an ultra-portable option in addition to the excellent functionality already on offer.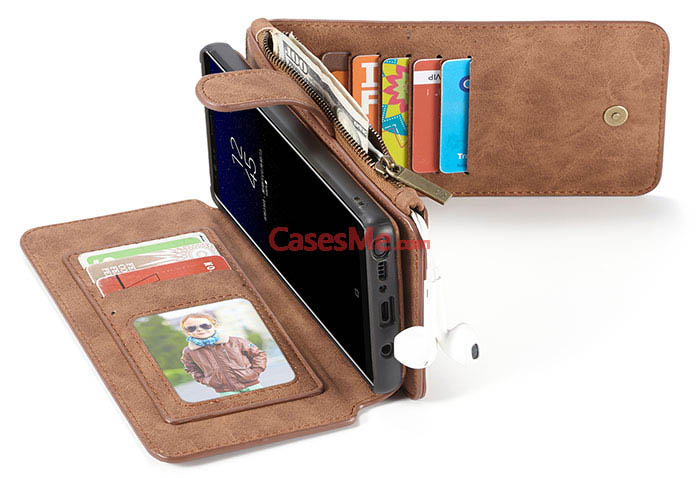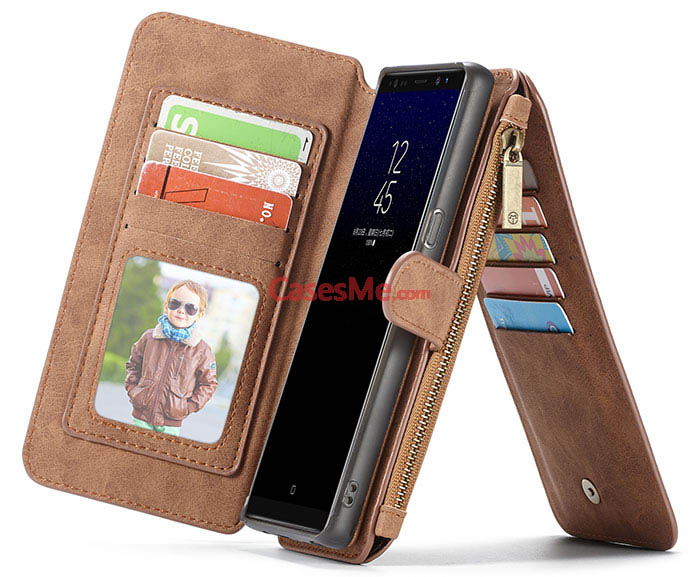 Detachable shell case
The most ingenious feature of this case is that you can detach the inner shell case and use a case in its own right. Simply pull the shell out of the wallet and off you go. When you want to place it back in, the magnetic system will hold it in place perfectly. Few cases have this level of functionality. Why would you need this? Well, firstly you might not always need the extra carrying potential of the wallet case while you'll always need protection - and secondly, this is another layer of protection for your precious Samsung Galaxy Note 8.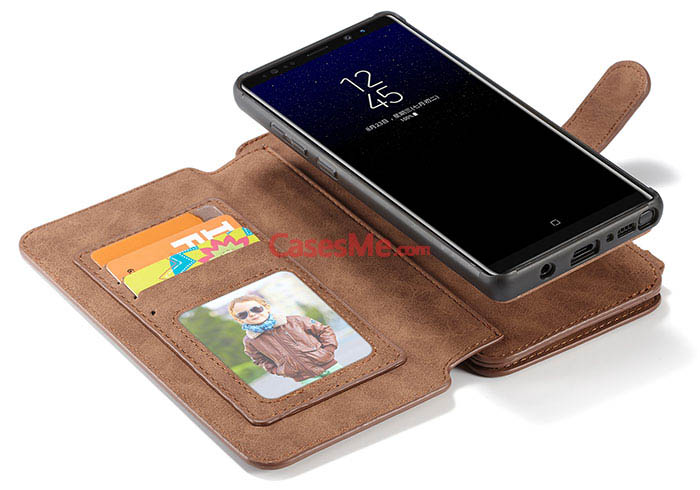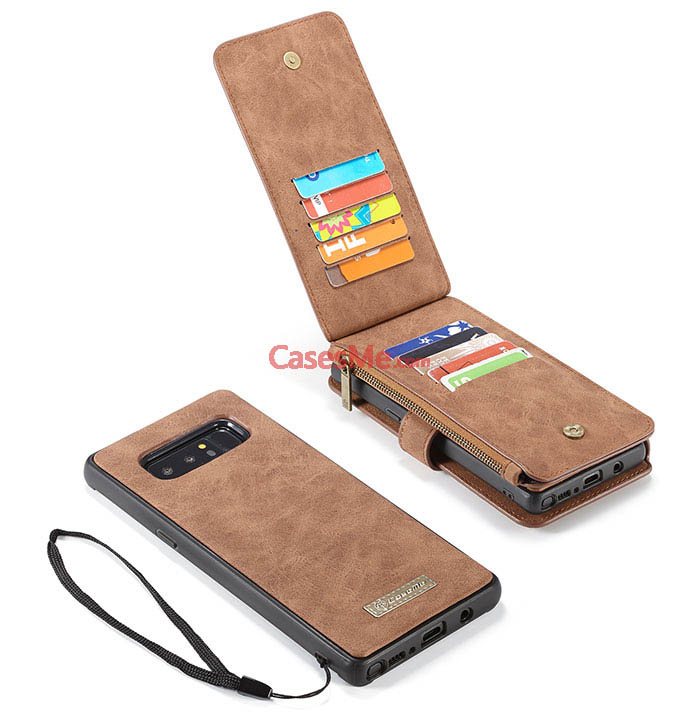 Lanyard loop
With the built-in lanyard loop, the CaseMe Samsung Galaxy Note 8 Zipper Wallet Detachable Flip Case can be attached to your wrist or other secure location with ease.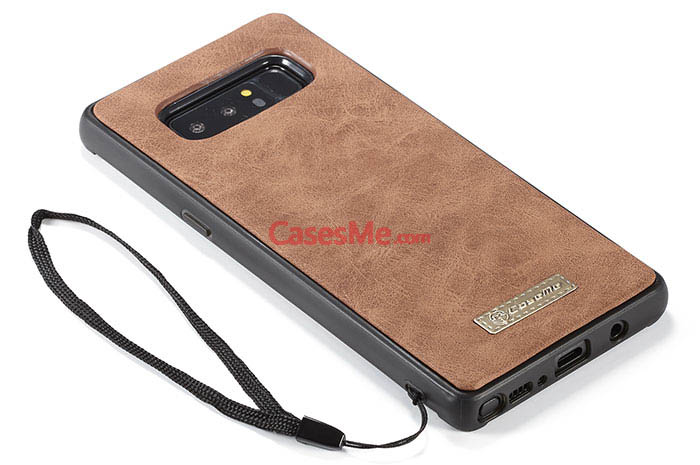 Interior credit card slots
With interior credit card slots, the 2-in-1 magnetic wallet case is perfect for storing anything from your train tickets and licenses to receipts and of course debit or credit cards. The case also includes an ID pocket for displaying important identification methods like driving licenses.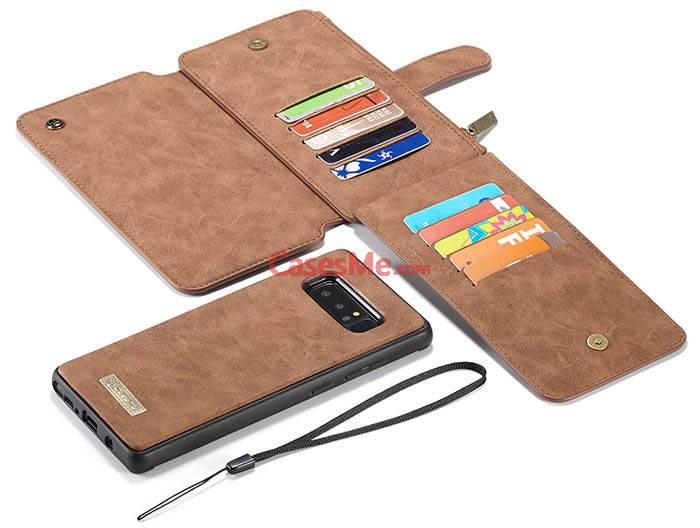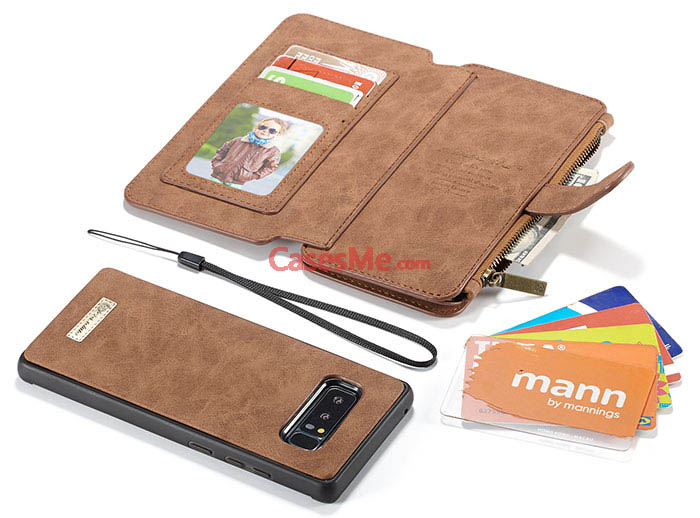 Secure zipper closure to hold your money in place
Once your cash and coins is placed within the zipper compartment, a zipper can be closed that secures your money within the zipper compartment.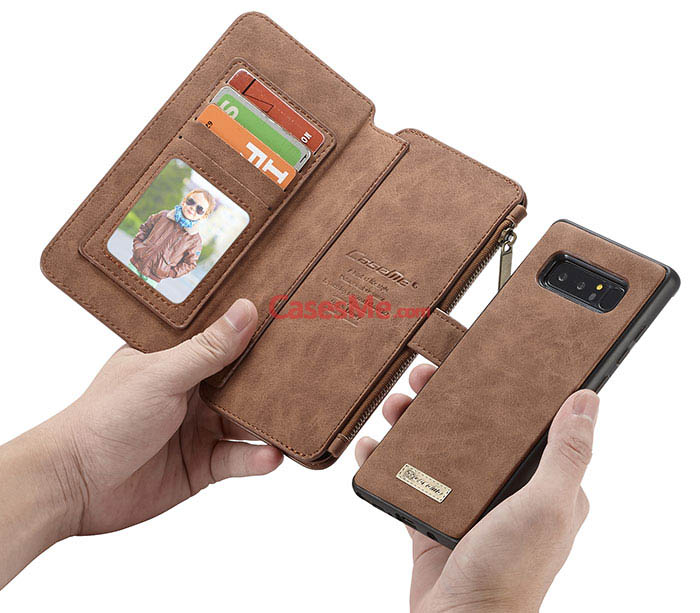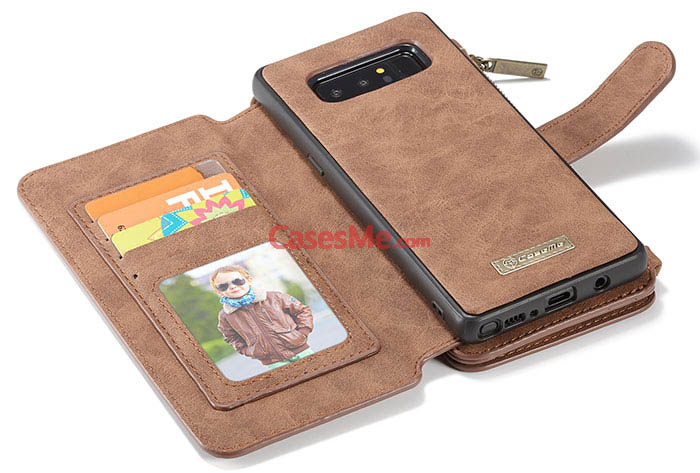 Opens and closes with magnetic clasp, for ease of use
The magnetic fastener on the CaseMe case will ensure that once closed, your Note 8 will stay safely protected within the case and will prevent it from coming loose. The face itself is adorned with the CaseMe logo as an assurance of quality.

Protection for the Samsung Galaxy Note 8
The case has been specially designed for the Samsung Galaxy Note 8, so you are giving the best possible fit. Underneath the sturdy leather-style casing is a strong PC and TPU frame that will keep your handset safe and protected. All necessary cut-outs are provided for all functions, such as camera, charging port, headphones and speaker.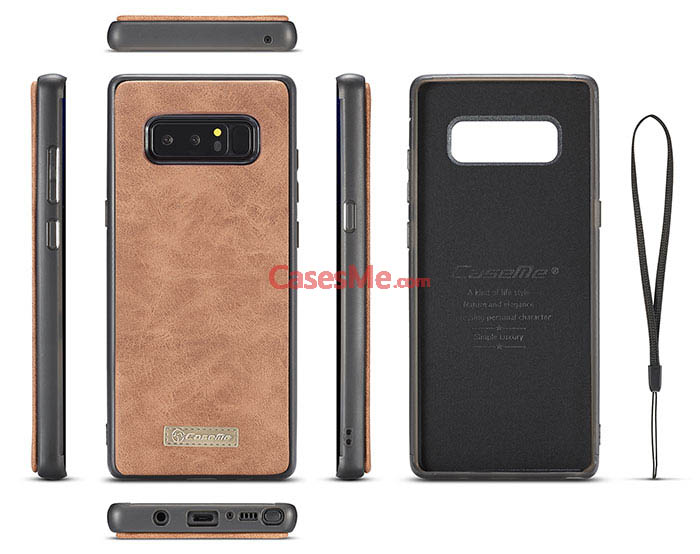 Zip pouch pocket to store coins or other small items
This case is truly the ideal choice for those wishing to travel light. Included alongside the card slots is a zip pouch, ideal for storing small objects such as change, USB memory sticks, small stationery (such as paperclips or drawing pins) and other essential items. Augment your everyday life with this ultra-useful case.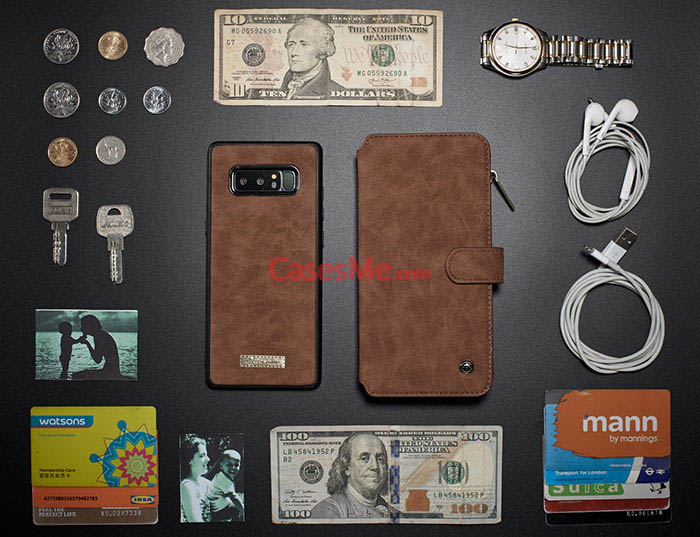 Wallet, Meet CaseMe Samsung Galaxy Note 8 Wallet Detachable Flip Case.
"Craftsmanship names an enduring, basic human impulse, the desire to do a job well for its own sake." ― Richard
Constructed from a single piece of rich, supple flannelette leather that we obtained from the best China steer hides, edged with an intricate flannelette leather that would make even an pefect cut-outs, and pulled together with highest grade. The CaseMe Samsung Galaxy Note 8 Wallet Detachable Flip Case is a masterpiece of design and function.
CaseMe Samsung Galaxy Note 8 Wallet Detachable Flip Case is luxury. 14 interior card slots, constructed from top grain leather, provide ample space for your essential IDs, cash, and cards, all the while keeping the overall profile of the case slim and easily accessible. Improved capacity and expanded pockets accommodate pretty much everything tucked inside that wallet you are sitting on right now, and maybe even a little more.
The Samsung Galaxy Note 8 rear camera is fully accessible while inside the case. The design allows a small border between your Samsung Galaxy Note 8 and the leather edge, providing a buffer against scrapes and bumps.
With 3 color combinations to choose from, you can find what is right for you. Whatever color combo suits you, know that we've preserved the enticing character of the leather by utilizing only the best portions of the hides.
Watch as your story begins to imprint on the leather of the CaseMe, leading to a rich and unique, that only looks better with age.