CaseMe Samsung Galaxy S7 Edge Zipper Wallet Detachable 2 in 1 Folio Case Black is made of Retro Flannelette leather, high quality and durability, high quality material design makes this Samsung Galaxy S7 Edge wallet case comfortable to touch and grip. Detachable 2-in-1 design, leather cover and inner leather coated PC hard case absorb together by strong magnetism. It is a multi-functional wallet with a roomy zipper cash storage enabling you to store all your valuables in one place. This wallet folio can store up to credit cards including a ID Picture Slot.
The highlight of this case is its multiple slots wallet design, which can bring and manage your credit cards, bus cards and ID cards conveniently. Zipper closure cash compartment, carry some money or your earphone with phone securely. Magnetic closure and snap-fastener add the secure level. Guard your phone from daily damage and carry your belongings in style. Detachable Magnetic Hard Case, Extremely convenient, you can carry the case with the wallet folio or you can detach the case from the wallet if you want to carry only the hard case without the wallet. Specially Designed Wallet Case For Samsung Galaxy S7 Edge.
CaseMe Samsung Galaxy S7 Edge Zipper Wallet Detachable 2 in 1 Folio Case Black Specifications:
Case Typle: Wallet Leather Case For Samsung Galaxy S7 Edge
Model: CaseMe-SGS7EDGE-008
Material: Retro Flannelette leather, PC, Metal
Color: Black, Brown, Red,Green
Feature: Wallet, stand function, Credit Card holder, photos Album
Function: Dust proof, shock proof, scratch proof
Net weight: 0.185kg
Size: 100% perfect suitable for Samsung Galaxy S7 Edge
CaseMe Samsung Galaxy S7 Edge Zipper Wallet Detachable 2 in 1 Folio Case 4 available Colors: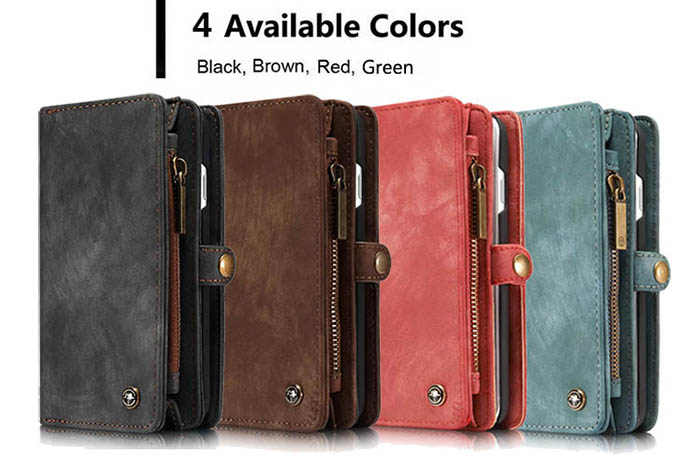 CaseMe Brand. Unique Case For Me Only. UK Brand, Designed in London.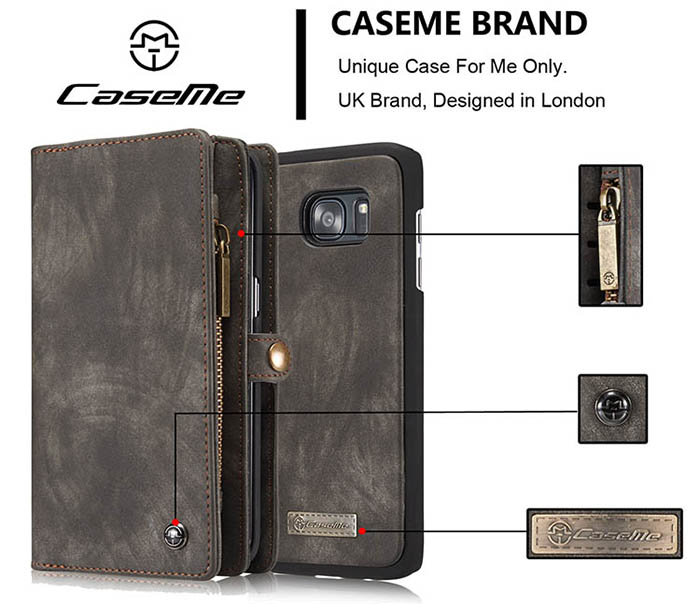 CaseMe Zipper Leather Wallet and Removable Back Case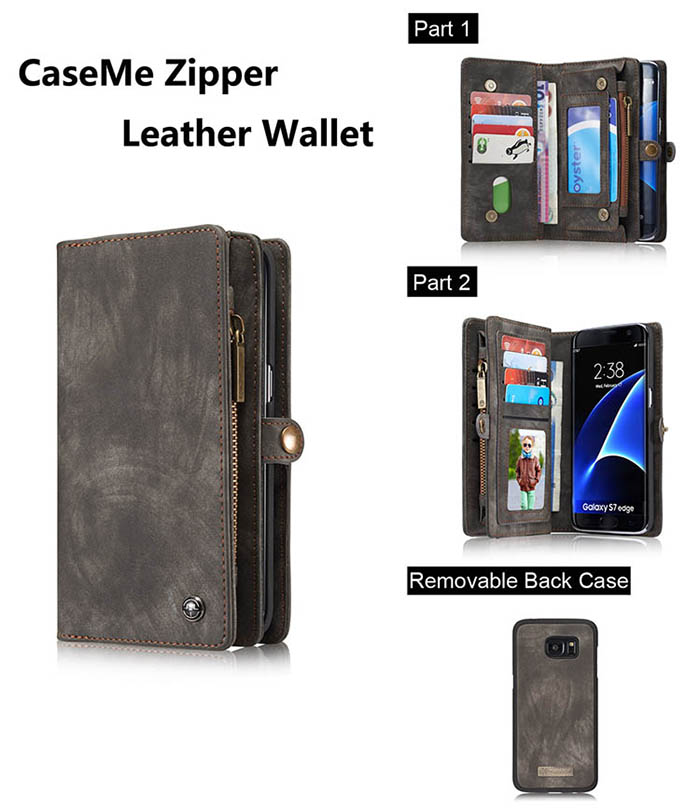 Multi-function Zipper Wallet Case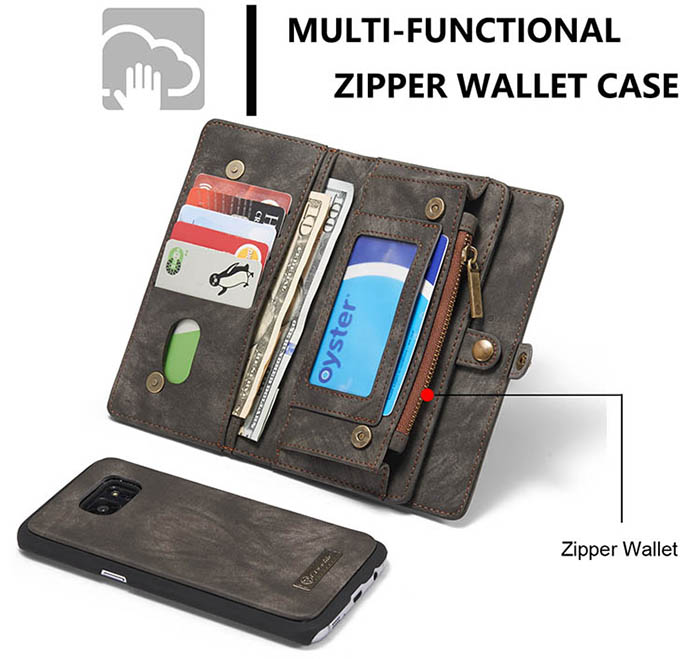 Card Pockets
Cash Slots and Card Slots
3 Cash Slots, 10 Card Slots and 1 Zipper Wallet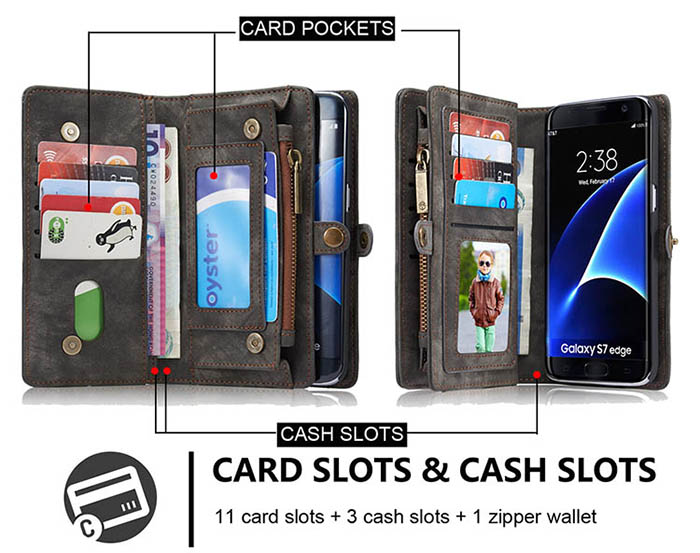 Premium Folio Cover
Durable leather wallet case provides your phone a full body protection.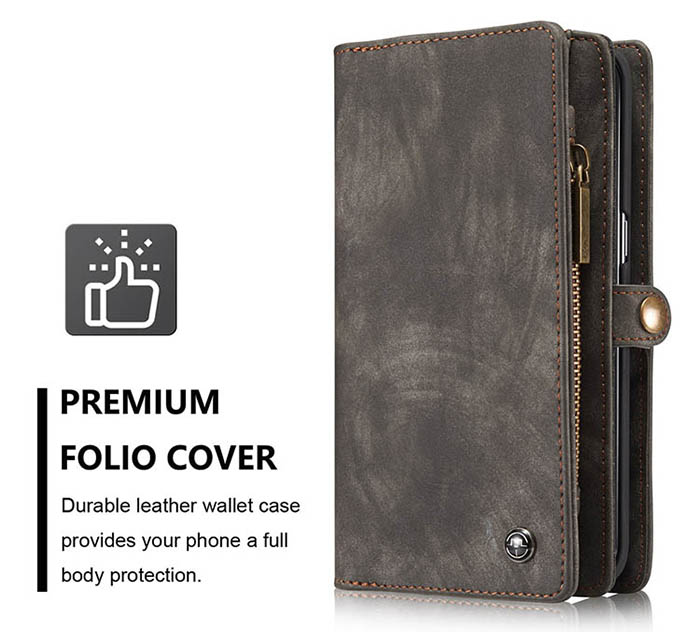 Removable Back Case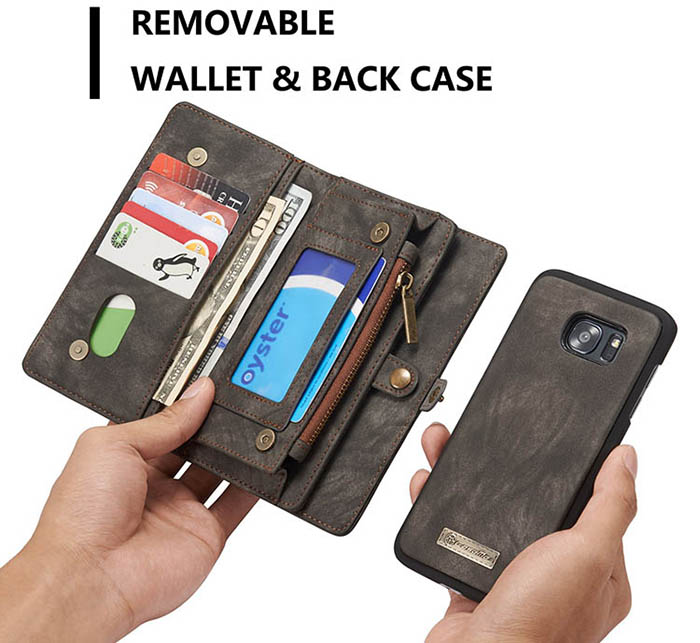 Detachable Back Case
The magnetic back cover can be removed to use only.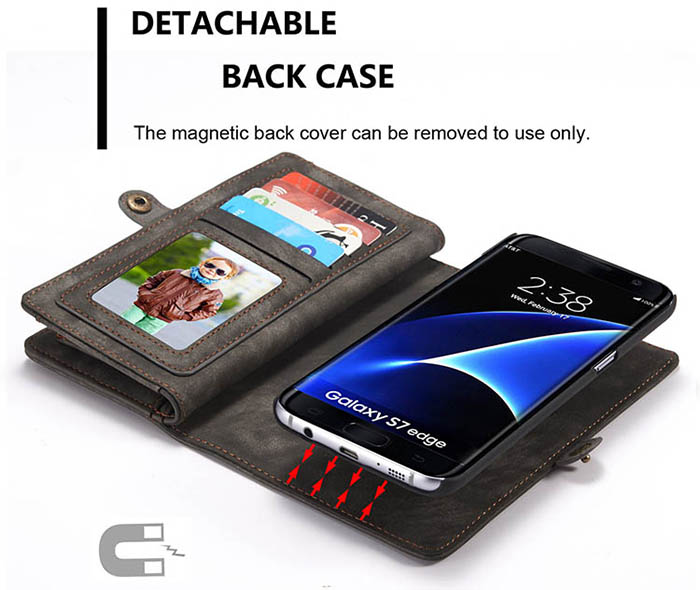 Magnetic Buttons
Magnetic system: Strong magnerism provides a secure hold with a easily open.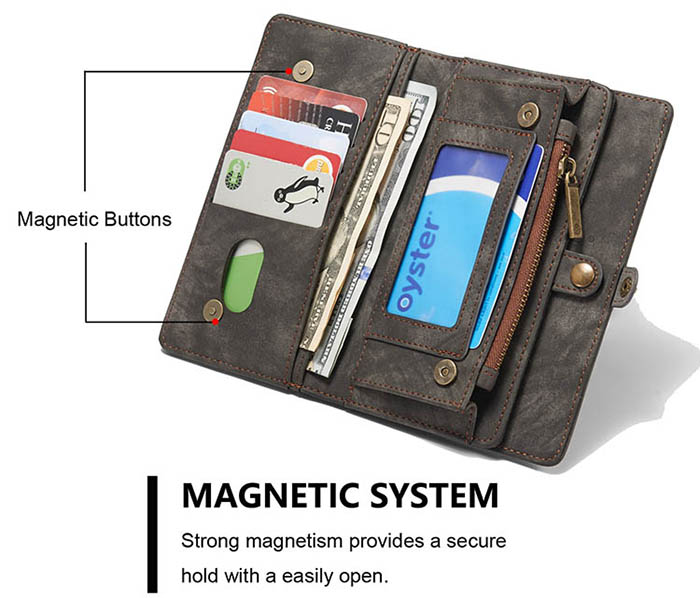 Convenient Snap Lock Closure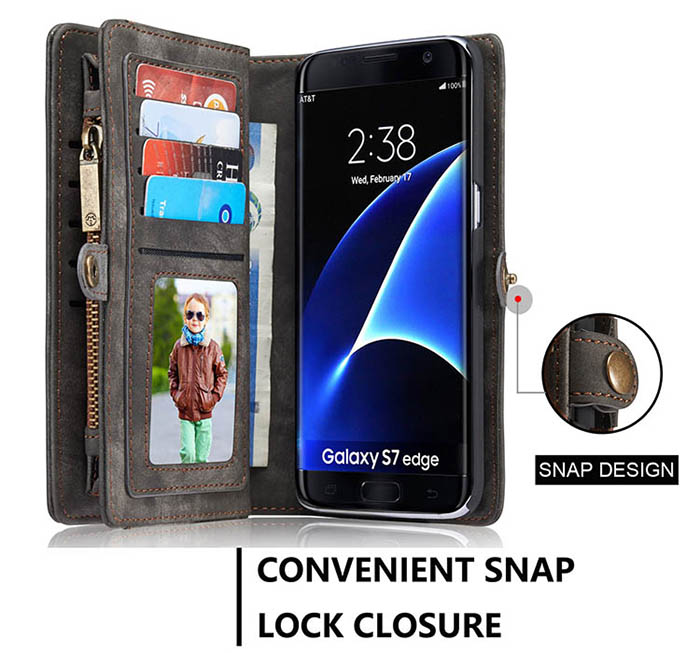 Perfect Cutouts
Easy access to smart connector, Camera Lens/Flash/Charge and Earphone Ports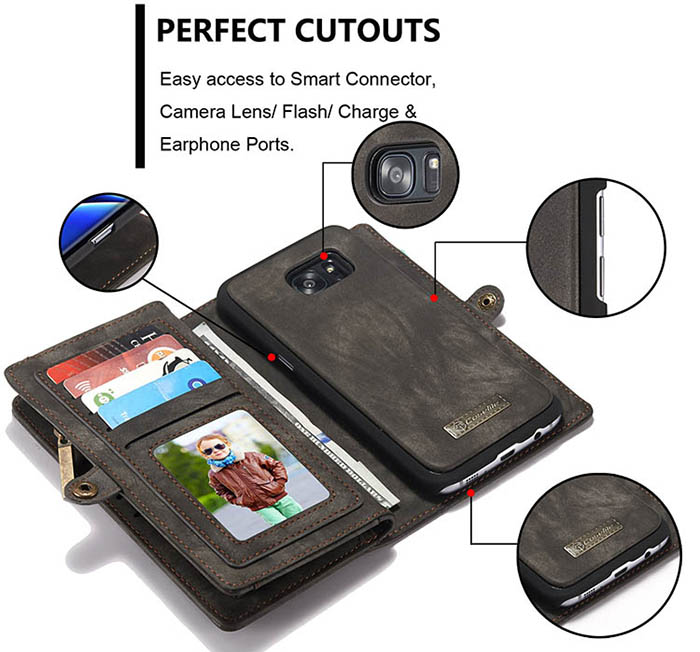 Secure Hold
A premium back case holds your device in place.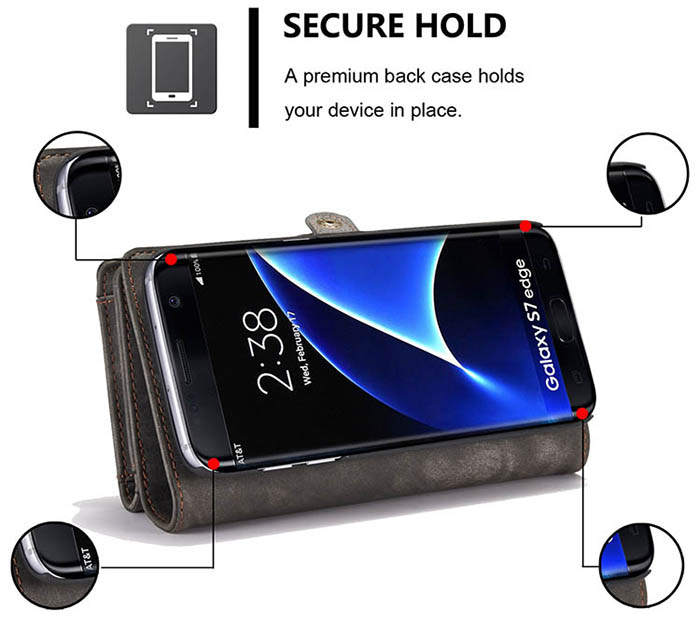 Warm prompt:
Differences in color may be caused by some other reasons such as color reflection in the monitor, lighting, background. the light and the display resolution and other reasons, pictures and objects may slightly colour difference, please in kind prevail. However, if you believe that the item received is in wrong color, please contact us to see if a return or refund is possible.
Shipping Methods
We offer differentshipping methods to deliver our products over the globe safely and quickly. We work with UPS, DHL, EMS, China Post, Singapore Post, Netherlands Post and HongKong Post. And we will inform you the situation before real shipping happens, so please keep in touch with us.
If you need us to ship the goods to your Chinese partner or Chinese forwarder, please kindly tell us his/her contact information, including name, address and phone number. We will ship your order to him/her as you require, but please note we will not bear the shipping fee.
Shipping Time
The shipping time depends on the goods you order and the shipping method youchoose. Generally speaking, your order will be shipped out within 1~3 days after payment being confirmed.Shipping time of customized products may be longer depending on the order amount and production techniques.
After your order is shipped out, the delivery time solely depends on the shipping method you choose. So please pay attention to the delivery time of each international courier before you choose.
Total Delivery Time = Processing Time + Shipping Time
Processing Time: All orders would be sent out from China. Within 1-3 working days via PayPal.
We need 1-3 working days to prepare your order. Before we can ship your order, CasesMe.com has to prepare your products, do strict quality-control tests and carefully package the items. The time it takes to prepare your items for shipping is seperate from the delivery time. Thank you for understanding!
DHL Shipping Delivery Time
Shipping Worldwide Estimate Total Delivery Time: 3-7 days.
When your an order of more than 500 dollars, we will delivery to your by DHL express free shipping.
The DHL shipping does not include any import taxes, and buyers are responsible for customs duties.
Please note that buyers are responsible for all additional customs fees, brokerage fees, duties, and taxes for importation into your country. These additional fees may be collected at time of delivery. We will not refund shipping charges for refused shipments.
Shipping Worldwide Estimate Total Delivery Time
Shipping Time: Registered Air Mail
Tracking number: Your tracking number and the express company website link will be given in about 3-5 working days by email after we received your payment.
Taiwan, Hongkong, Macao (Send by SF Express): 2-7 working days.
United States, Canada, France, Netherlands, United Kingdom, Israel, Russia, New Zealand, Norway, Germany, South Korea, Malaysia, Austria, Belgium, Switzerland, Denmark, Ireland, Hungary, Italy, Luxembourg, Poland, Sweden, Turkey, Ukraine, Finland , Portugal, Saudi Arabia countries: 7-15 working days.
Other countries countries: 7-25 working days.
Note: We hope it arrive on time but since this is an international delivery, shipping time will be highly depended on the courier company and local customs/duties. Thank you for your understanding.
Shopping FAQ
Q: I'm interested in business with you, but can I trust you?
A: CasesMe.com boasts 1000,000+ customers from almost all countries in the world. Among all our customers, 99.9%like us. So yes, CasesMe.com is trustable. But you can always do your own research, browsing on Internet checking our happy customers' experience with us.
Q: Must I register to order from you?
A: It's recommended but you don't have to. CasesMe.com supports guest checkout. Registering with CasesMe.com, however, allows us to provide you with better support and the whole registering process should take no more than 2 minutes.
Q: Why haven't I received any emails from you?
A: Please check your Spam folder or inbox. It happens that sometimes our email mismarked as spam and blocked by users' email filter system. We suggest you to add our email address to your contact list or address book to avoid missing Email messages from us.
Q: A tracking number was received, but tracking information is unavailable.
A: When an order is shipped using a trackable service, tracking information for deliveries will generally be available within 2-5 days, however sometimes it may take a shipping partner a little longer.
If tracking information has not appeared after 10 business days, please contact us.
Q: The tracking information hasn't been updated. Is the order stuck?
A: A number of shipping partners update tracking information when a package is received at each stage of the delivery path.
Generally, the package is still on the way, just waiting to be scanned at the next sorting facility.
Q: What if my order is later than expected?
A: If your order hasn't reached you within 15 business days, the best first step is to contact your local post office in case they are holding the package for you. You'd be surprised how often this is the case!
You can check on the progress of your order up until it gets shipped over here.
If you feel that your order is taking much longer than it should, you've allowed a reasonable time for your local customs to peek at your awesome new stuff, and your local post office was not able to help, contact us and we'll see what we can do. When contacting us, please let us know your order number and the full correct delivery address so we can help you as soon as possible.
Q: What payment methods do you accept?
A: PayPal. You can complete your payment using your PayPal account. If you have paypal account, you can pay your order by your paypal account. If you don't have paypal account, it doesn't matter. PayPal also includes credit card payments(VISA, MASTER CARD, AMERICAN EXPRESS, DISCOVER), You can also pay via paypal with you credit card or bank debit card. Payment can be submitted in any currency.
Q: What can I do withdefective items?
A: We need pictures or video to confirm if they are truly defective. After confirmation, you can get a full refund, or ask for sending them again or combining them to the next new order. As compensation, we may give a discount for your next order.
Q: Can I customize items, such as to print our own logo, or to alter the design?
A: Yes, for most products on CasesMe.com. Please contact us or your sales representative to check with the details.
Q: I'm interested in certain products but they are not listed on CasesMe.com. Since you are a professional supplier, can you source them for me?
A: We would love to. Show us the product images as well as the description. It may take some time.
Q: Can I get a sample for FREE? I will buy more if it's of good quality.
A: Sorry but we don't give free samples. You have to pay for them. It's easy on CasesMe.com as we don't require any minimum order.
Q: I have put an order with CasesMe.com. Any discount for me?
A: Buy more and save more, as is the basic rule on CasesMe.com. About discount, please refer to Discounts & Coupons.
Q: Can your price be lower?
A: On CasesMe.com, the price is generally lowered with the increase of quantity. So yes, the price can be lower but we need to know your order quantity or purchase plan first.